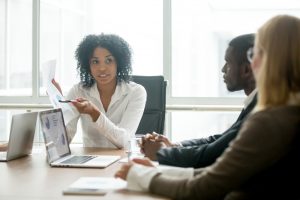 The Fedcap Group partners with businesses, governments, schools and non-profit agencies to develop High Impact Internships so individuals can advance along their career paths. Securing an internship can be difficult for young people between the ages of 17 and 22. When that young person comes from a disadvantaged home or is transitioning out of foster care, the challenge can seem impossible. The Fedcap Group makes it possible to find an internship.
Quality internships provide young people with the opportunity to make connections, develop skills and explore career options. Through a ten week internship, a young man or woman will learn the basics of how to work. They will come to appreciate that it will make a difference—for themselves and for the organization–if they show up on time, arrive prepared, work cooperatively with other employees and invest in learning about where they work.
A young person participating in a High Impact Internship will have the backing of our education and workforce-development professionals to mentor them. The sponsoring organization will enjoy having an eager worker, a dedicated staff-support for that intern and the satisfaction that it is preparing a qualified workforce for the future.