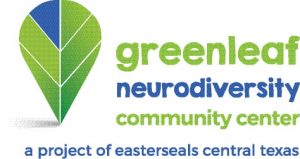 2021 was a year of incredible growth for Greenleaf Neurodiversity Community Center (NCC), an innovative project of Easterseals Central Texas as well as a charter school in the Austin, TX Independent School District (ISD). The year marked the realization of a dream shared by the project's founders and supporters—in 2021, Greenleaf began offering a daytime educational program for young adults ages 18-22 who have autism or related neurodivergent conditions.
"The Center is an example of our important partnership with Austin School Districts," said Tod Marvin, CEX of Easterseals Central Texas. "A large portion of the project has been funded by parents and local donors who are passionate about the work we are doing with people with autism in Central Texas."
Since its launch by Easterseals Central Texas in 2019, Greenleaf had been offering social, creative and recreational programs to young people with autism who are transitioning to adulthood. The need is great, as there are few services available to this growing population. Autism is the fastest-growing developmental disability—about one in 54 Americans will be diagnosed with autism.
The new educational program offers NCC participants the option to continue their education in the public school system, through project-based learning and community settings. It complements a robust menu of social and creative programming that includes performing arts, creativity clubs, cooking classes, yoga, mindfulness, a music club, a nature club, podcasting, storytelling, and poetry. Discussions are underway to offer a LGBTQ support group, and a support group for domestic violence awareness.
"As these young people get older the number of services available to them is less and less," said Randi Shade, Greenleaf NCC Co-Chair. "There are very few extracurricular activities or programs that offer community connections for young people with autism who are transitioning to adulthood."
Other highlights for 2021 include bringing four talented full-time staff on board; opening our community center space; developing strong relationships with community partners, and serving over 50 individuals in daily or weekly programs that build community and foster skills in workplace readiness, self-determination, wellness, relationships, and lifelong learning.
And there's much more! "We are credentialed job skills trainers and authorized service providers, and are recruiting students for our new 18+ Public School Partnership Program with Austin ISD and our Workforce Readiness classes with Texas Workforce Solutions," said Mitchell Bowman, Director of Social Creativity Programs. "We can help young people find a class that will support their vocational and independent living goals, and help them navigate vocational rehabilitation services at TWS!"
There is a unifying theme that runs through all of Greenleaf's programming. "The curriculum has a beautiful element of self-advocacy," said Tod. "There is an underlying goal of finding and sharing your voice through music, storytelling or gaming, just being with peers and serving as peer mentors."
Greenleaf's affiliation as a charter school with Austin ISD means that public funds will be available for all of its programming. Crucially, it means that any eligible young adult can participate, without regard to income.
"We are in a great position to respond to the needs of every person who comes to us," said Tod. "Our school partners can't provide individualized support and services to this growing population, but we can be responsive to the needs of each and every family."
The introduction of a daytime educational program as a charter school brings Greenleaf full circle, realizing a vision Randi and the Greenleaf team shared with Easterseals Central Texas. "Easterseals was always a foundational part of the vision for Greenleaf," Randi said. "They have such a long and successful record as providers of early intervention services, and working with people with all kinds of disabilities."