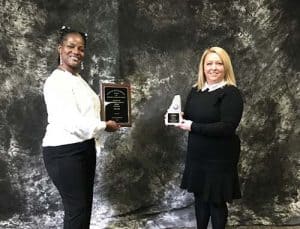 Granite Pathways is thrilled to announce that two team members have been recognized by the State of New Hampshire for outstanding service! Lisa Bee, a Parent Partner in the Strength to Succeed (STS) program, was presented with the Exemplary Leadership and Service Award for her outstanding work by NH Department of Health and Human Services (DHHS) Commissioner Lori Shibinette, and Joe Ribsam, Jr., Director of the Division for Children, Youth and Families (DCYF). Lisa was nominated by DCYF staff as a leader whose work is exceptional and as someone who goes above and beyond for the parents with whom she works. For those parents, she is a beacon of hope and inspiration.
The recognition was given virtually at the annual DCYF conference. "It is hard to express how honored I am to receive this award," Lisa said. "I am humbled to be able to help build relationships with families here in New Hampshire."
Lori Hebert, STS Program Director, was presented with the Granite Award for Exceptional External Partnership and Collaboration with DCYF. "It is truly an honor to be recognized by DCYF. I share this award with our entire team who have tirelessly worked to build and expand peer services for families involved with child protection. Together with the Division, we are helping families find healing through sustainable recovery and I look forward to continuing this work together."
The State of NH deserves significant credit for its commitment to innovation. Recognizing the challenges faced by families impacted by substance use disorder (SUD), DCYF introduced STS as a collaborative, voluntary approach to support children and parents through a peer-to-peer support model.
Learn more about the awards and the Strength to Succeed program on the Granite Pathways website.