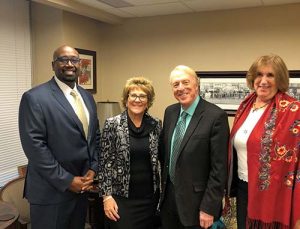 On March 9th, Virginia State Senator George Barker (D), Southern Fairfax County, read a proclamation and statement recognizing MVLE and its work in the community.
The Senator's statement came as MVLE, which operates in Senator Barker's district, prepares to celebrate its 50th anniversary as an agency.
"Senator Barker is an outstanding leader in our community, he has been a voice to be heard and his advocacy for people with disabilities is unmeasurable," said MVLE President and CEO April Pinch-Keeler. "To provide a voice when others are not able or given the opportunity to be heard is something that takes awareness, truly makes a difference in lives of people with disabilities. Senator Barker was a lead champion in passing Medicaid expansion in Virginia, and he continues to 'work with purpose.' On behalf of MVLE, I thank the Senator for recognizing MVLE's 50 years of providing services for people with disabilities and supporting our mission of Creating Futures One Person At A Time."
Here is Senator Barker's statement–
"For 50 years, MVLE has been helping people with disabilities reach their full potential and realize their dreams through education, training and job placement. The impact of MVLE's work is felt across northern Virginia, where persons with varying degrees of abilities are living independent, productive lives, overcoming challenges and bringing pride and joy to their loved ones as they pursue their personal and career goals."
The COVID-19 pandemic has had a devastating impact on the employment of people with disabilities. With an unerring sense of purpose and a laser focus on mission, MVLE continues to fight for equity and inclusion, helping people identify their interests; understand work-related goals; become familiar with job and career possibilities, and know the dignity of work and the feeling of a job well done.
Each year, MVLE partners with over 125 local organizations to provide community-based work opportunities and rehabilitation services to more than 450 adults with disabilities. And our capacity is growing–in 2018, MVLE became a part of The Fedcap Group, a global network of top-tier nonprofit agencies dedicated to advancing the lives of people with barriers to economic well-being.
Working with our government and business partners, MVLE is set to deliver at least 50 more years of service to the people of Virginia, In the words of Sharon Bartlett, whose daughter Rachel is an MVLE client—"MVLE believes that their clients can learn. They don't see a ceiling. They believe that people always have the ability to grow and expand their knowledge. MVLE lives that, and it shows."