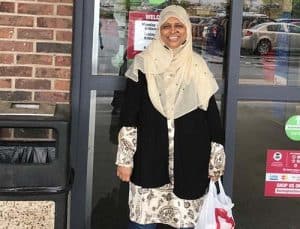 Arifa Hossain came to the United States from Bangladesh with her husband and two children in 2016. Eight months after they arrived, Arifa's husband tragically passed away, leaving her alone to raise and support two young children. Arifa was terrified—she never left the house alone or traveled alone, and didn't speak English. She had no employment history. All decisions were made by her husband.
Arifa was forced to move her family into a basement apartment on Queens that was infested with rodents and insects. She became depressed, and her son wanted the family to move back to Bangladesh. Having nowhere to turn and not knowing what else to do, Arifa applied for TANF benefits from the state and was assigned a case manager from Fedcap Inc., Sushmita Bit. It would prove to be a life-changing meeting for Arifa, and the beginning of a long friendship.
Sushmita encouraged Arifa to seek work as a home health aide. For Arifa, the notion was hard to accept. Her family members In Bangladesh were academic and professionals, who would consider caregiver work beneath their dignity. There were cultural constraints that Arifa struggled to overcome. She told Sushmita that she would only work for a family that shared her religious faith, would not work in a house with a dog, would not work for a man, and would not travel outside of Queens.
Sushmita and Arifa met frequently, and spoke almost every day on the phone. Sushmita encouraged her to be strong, and to start building a new life. There was no one to take care of her, she said; Arifa would have to take care of herself and her family. If she wanted to get off of public assistance and become independent and self-supporting, she would have to work. After much encouragement and with ongoing support, Arifa gradually agreed to relax her conditions, and soon entered a training program to become a home health aide, earning a certificate. Within a year she was working fulltime, taking care of patients in Long Island.
Then something wonderful happened–Arifa's son, who was attending community college in Queens, was accepted at SUNY Buffalo. With only three days to decide whether to accept the offer, the family visited Buffalo the next day. Afraid that she wouldn't be able to find work in a strange city, far from the encouragement and support of Sushmita, Arifa was reluctant to leave her job. But Sushmita encouraged her, saying this was an incredible opportunity for her son, and that work would be easy to find in Buffalo. Arifa decided to move.
It turned out to be a great decision. As Sushmita had promised, trained home health aides were harder to find and more in demand in Buffalo than in NYC. The family was also able to escape the infested apartment in Queens, and avoid the high cost of living in NYC.
In Buffalo, Arifa had no car and little money, and did not understand the public transportation system, but she assured prospective employers that she would find a way to get to her job as she had in Queens—she would walk if she had to.
Arifa was hired, at first at 20 hours per week. After proving herself to be a hardworking and committed employee she was promoted to full-time, and now works 56 hours per week, taking care of a woman from Mexico. Over time she became comfortable traveling alone, and has learned to use the bus system to get to and from work.
At Sushmita's urging Arifa began saving her money—she is now financially independent and is no longer on public assistance. The best news of all—Arifa purchased her own home! She has developed a circle of friends, who have helped her settle in. She continues to save money and is enjoying the slower pace of Buffalo. "It is a great achievement in my life," Arifa said. "All of my sisters and brothers called to congratulate me. I am very happy that my son is happy too."
Sushmita was thrilled for her client and friend when she heard the news. "Arifa called me one morning and informed me that she bought a house. She said this was a dream come true for her, and thanked everyone at Fedcap who supported her in her journey alone. She has achieved something no woman in her family has ever achieved. I feel so happy because I was able to make a change in Arifa's life. It is an experience that I think she will remember forever."
When Arifa isn't working, she hones her computer skills, hoping to secure an office job, preferably with the NY State Government. She still talks to Sushmita frequently. Occasionally, Sushmita will ask her to call other women who are struggling, to share her own story of overcoming barriers and proving that anything is possible.
"I tell them be strong, be brave. You have to face your challenges, and if you work hard and put your heart and soul into it, you can achieve whatever you want."