The Fedcap Group Reports First Half Fiscal Year 2023 Financial and Operating Results
New York, NY—May 11, 2023—The Fedcap Group, the parent company for 23 nonprofit subsidiaries, in the United States, Canada, and the United Kingdom, released its operating and financial results for the first half of fiscal year 2023 that ended March 31, 2023.
First Half FY2023 Program and Operating Results
Commenting on the results, The Fedcap Group's President and CEO Christine McMahon noted, "This was another period of solid growth and significant accomplishment for The Fedcap Group. We continued to execute effectively on domestic and international contracts, while winning new work, and building out our service offerings to address the substantial opportunities we see on the horizon.
"In the first half of fiscal 2023, we made considerable progress on the key objective of integrating education pathways with our workforce programs, by awarding college credit to individuals who have gained workforce and vocational certifications. During the period we leveraged our partnership with Paul Smith's College to provide college credits to individuals graduating from our technical and workforce programs in the areas of solar technology, home digital automation, and entrepreneurship. Through the collaboration of our Education and Workforce practices, we train individuals for jobs and careers in areas of high demand that provide a roadmap to economic well-being.
"The Fedcap Group continues to be differentiated by our passion for driving program innovation and implementation above and beyond what our contracts call for. This attribute has underpinned our growth and success to date and provides us with continued opportunities for further progress in the second half of this fiscal year and beyond."
The Fedcap Group provides a diversified array of services to break down barriers and create pathways to economic well-being. In the first half of the 2023 fiscal year, The Fedcap Group served just under 140,000 individuals, including those screened for state and federal benefits through our Single Stop program—a 50% increase year-over-year. To achieve this mission, The Fedcap Group operates across four key practice areas: Education, Workforce Development, Health, and Economic Development.
The Education Practice continues to expand with programming that spans from early child wellness services all the way through college-level vocational and credit-bearing college education. Currently, 2,230 individuals are enrolled in our education programs across the country. Key first half FY2023 highlights were:
The Workforce Practice continues to demonstrate strong growth and positive outcomes. In the first half of FY2023 we placed 12,354 individuals into jobs—an increase of 15% from the first half of FY2022, and maintained our above-average job retention results, with over 80% of those placed being retained for 180-days or more.
In addition, we launched FedcapVR Technologies—an end-to-end solutions provider to create fully immersive virtual reality simulations that will be fully integrated into our education and workforce programs, including solar and wind energy, construction, urban forestry, and welding.
The Fedcap Group's Health Practice continues to grow on the strength of our Single Stop case management and benefits program. During the first half of FY2023, 24,700 individuals were screened for federal and state benefits, and households on average received $21,000 in benefits.
In addition, The Fedcap Group continues to show strong results in health and wellness during the first half of FY2023 including:
In the first half of FY2023, 1,060 individuals were directly employed by a company of The Fedcap Group. Ninety-five new jobs were added in Total Facilities Management–our largest commercial enterprise. The average salary is $42,550 annually—more than 30% higher than an annual salary at a $15 minimum wage. In addition, the retirement assets of Fedcap's direct client service workers have greatly increased from $8.4 million in 2010 to $111.2 million in 2022—demonstrating our commitment not only to sustainable wages, but also to wealth.
Our international footprint continues to rapidly expand in Canada and the United Kingdom.
In Canada, we launched new employment services in Niagara Falls during the first half of FY2023. In the Hamilton-Niagara region we have exceeded job entry performance (100%+) deliverables while outpacing other performance targets—consistently meeting or exceeding contractual requirements.
Our UK-based Fedcap Employment is providing leading job training and placement for people displaced from the Ukraine in Scotland. To date, we have worked with 433 people and already 160 have been supported into work.
Fedcap Scotland is expanding health programs—recently being awarded funding through the Falkirk Health and Social Care Partnership for our new pilot program "Healthy Minds, Inspiring People." This eight-week program will support 40 young people who have learning disabilities and difficulties with their mental health through building confidence, resilience, and empowering self-efficacy. Fedcap UK will also launch the United States Clubhouse model in the United Kingdom—a program designed to offer services to those people with mental health conditions, building confidence and self-efficacy.
First Half FY 2023 Financial Results
In the first half of FY2023, revenues increased 6.4%, to $186.1 million. Revenue growth reflected organic domestic and international program growth, with domestic work representing 71% of the total first half FY2023 revenue and international accounting for 29%. The Fedcap Group continues to achieve strong contract renewal rates of over 90% and has a robust business development pipeline.
At March 31, 2023, The Fedcap Group had $47.4 million in cash and investments, $255 million in total assets, and $157.1 million in long-term debt. Net assets were $50.7 million, an increase of 12.4% from first half FY2022 levels.
"Our first half results have put us on track to serve a significantly expanded population and achieve considerable revenue growth for first half FY2023.
"We are pleased to note that The Fedcap Group received a technical assistance grant from the U.S. Treasury Department to launch a Community Development Financial Institution focused on building wealth for individuals through private sector growth and homeownership. When fully operational, the CDFI will primarily offer equity or capital investments to help people build equity through a business or through home ownership as well as technical assistance.
"The Fedcap Group's strong operating and financial position has enabled us to greatly expand the number of individuals we serve. Over the remainder of the 2023 fiscal year, we will continue the integration and expansion of our education and workforce development platforms, while executing on our existing contracts and moving ahead with our launch of the CDFI. Capturing these growth opportunities will enable us to further our mission to achieve economic well-being for disadvantaged communities," Ms. McMahon concluded.
For nearly ninety years, The Fedcap Group has developed scalable, innovative, and potentially disruptive solutions to some of society's most pressing needs. Serving 340,000 people this past fiscal year, The Fedcap Group provides educational services to every age group, vocational training and job attainment in high-growth industries, as well as support services such as behavioral health services—all targeted to helping people achieve long-term self-sufficiency. The Fedcap Group also invests its time and resources in broader system change—working in partnership with federal, state, and local government to improve the way services are designed, funded, and delivered.
The Fedcap Group Consolidated Statement of Financial Position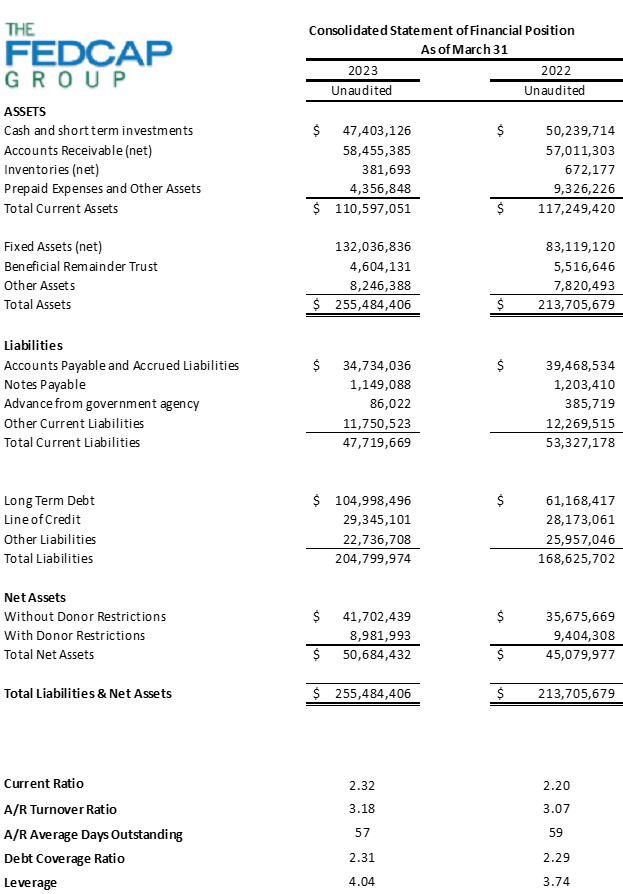 The Fedcap Group Consolidated Statement of Activities