Leadership is Action, Not Position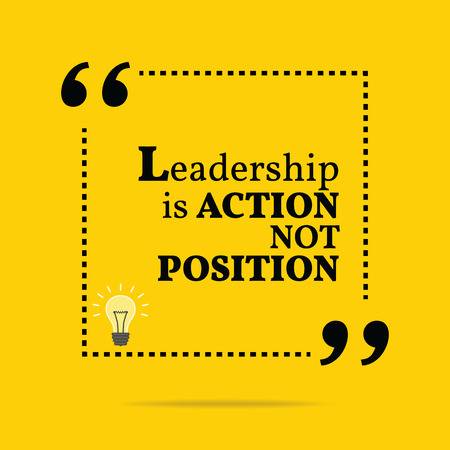 Recently, in a conversation during our Leadership Academy, one of our faculty shared the quote from  Donald H. McGannon, who ran Westinghouse Broadcasting Corporation and served as President of the National Urban League,  "Leadership is action, not position."  This resonated with me. 
Countless books have been written about what makes a good leader. Certainly being inspirational,  driven, having a vision, and being a strong communicator are all characteristics of leaders. But for me, at the heart of leadership is the willingness to act.  I believe that the best leaders are those who take in information, distill and analyze it, and then use it to do something.  The most effective leaders build bridges between knowledge and action and they act quickly when it is required.  They understand that non-action can place the company at risk.  They generate trust because of their willingness to act.  They are not limited by fear or by making a mistake.
These leaders are not defined by their position.  They may have official authority, or they may not. Their leadership is marked by purpose — to improve things, to be better.  Their style is one of candor.  They see issues and they talk about them.   My experience suggests that leaders willing to act have a strong commitment to mission and a disdain for complacency.  They see the value in producing outcomes.   They do not settle.
Leaders garner the respect of their colleagues because they bring with them the integrity and the courage to do the right thing when it matters.
As we continue to build our talent across the agency—we look for people who have a history of acting—of doing something meaningful and with integrity, and who have been able to demonstrate that bridge between knowledge and action.
Join Us
Join our Email list