Dedicated staff of The Fedcap Group are taking extraordinary steps to continue to assist those we serve as the nation struggles to contain the coronavirus pandemic. In the face of increasing hardship and a dearth of resources and support, our people are stepping up.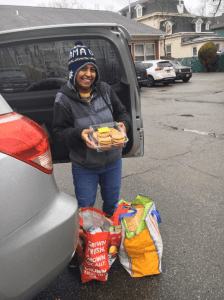 Easterseals New York's Project Discovery is an integrated educational program for preschoolers that includes special education services, as well as an Outreach Program, providing food, clothing, housewares and toys to the neediest residents of Port Jervis. Over 165,000 pounds of food are distributed annually to children and families in need.
Each morning bread, produce and other items are displayed on a table in the parking lot for residents to pick up as needed, to supplement the food distributed at monthly outreach events.
"Recently, instead of receiving over 1,200 pounds of bread a month, we are getting five loaves. It's getting quite serious here," said Barbara Kuczyra, Outreach Coordinator and School Nurse for Project Discovery.
Our Total Facilities Management teams are out in full force working 24/7 to clean and sanitize facilities throughout New York, Boston, Virginia and Delaware.  "The demand is significant and we are hiring new staff to meet the needs, all the while ensuring the safety of our dedicated staff," says Steve Coons, President of Fedcap Rehabilitation.
In addition, our residential care workers and home health aides are providing direct care to some of society's most vulnerable.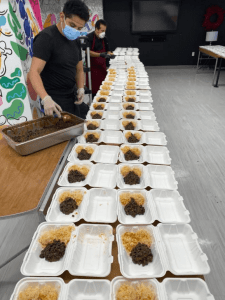 The Fedcap Group's Food Arts Center is working 24/7 to address food insecurity among people impacted by the COVID-19 pandemic. Partnering with Migrant Kitchen,  the Food Arts Center is producing over 1000 meals per day, providing free meals to healthcare workers and their families, including frontline workers at the Covid-19 treatment units at Bellevue Hospital Center, Lenox Hill Hospital, and Memorial Sloan Kettering.
In addition, the Food Arts Center has been hosting Feed the People, which is producing and delivering emergency meals to families and individuals who are housebound or have food security issues.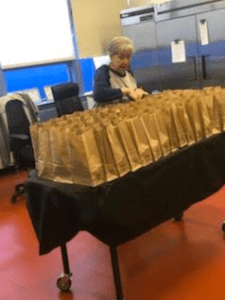 The Fedcap School in Orange, New Jersey closed on March 18th as part of a statewide effort to contain the coronavirus. Social Workers, Counselors and Job Coaches are making wellness check-in daily calls and are available to any student in need. Staff are delivering breakfast and lunches to the entire student population.
The mood around the Fedcap School Staff is "unified and strong," said Principal Luanne Macri. "We are teachers. We care about our students, and our population depends on us for far more than educational achievement. This is uncharted territory for everyone, but we are in this together, and we will be there for our students."
Easterseals New York is on the front line providing child care services to our first responders and health care providers.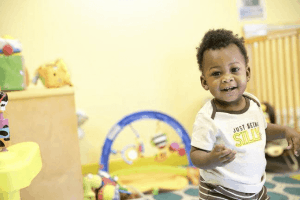 "I am so proud that our Easterseals staff are stepping up and ensuring the availability of child care during this time of crisis", said Don Harreld, Executive Director of Easterseals New York.

Our Fedcap Inc. team is working around the clock to stand-up a new service delivery system in Canada (www.fedcapcanada.org), some staff getting stranded there for weeks at a time.