Words of Wisdom in the Pursuit of Justice: A Compilation of Perspectives to Celebrate Black History Month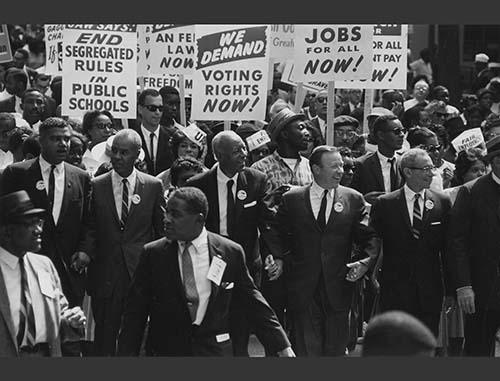 February 6, 2023
"There is no more powerful force than a people steeped in their history. And there is no higher cause than honoring our struggle and ancestors by remembering.1"
– Lonnie G. Bunch III, Director of the Smithsonian Institution
In 1986, Congress passed and the president signed into law designating February National Black History Month to collectively observe and participate in "appropriate ceremonies and activities to salute all that Black Americans have done to help build our country." It is a way to honor the contributions of Black Americans in every facet of life. The month also helps acknowledge challenges Black Americans have faced—and continue to face—in our striving to form that more perfect union.
Last year I focused on four Black American women who changed lives for generations to come through their tenacity, courage, and willingness to fight for justice.
This year, I have been reading commentary from leaders across the spectrum, and I thought that it might be interesting to compile excerpts from these commentaries to provoke dialogue and action.
President Obama's Remarks by the President at Black History Month Reception in 2016:

"Black History Month shouldn't be treated as though it is somehow separate from our collective American history—or boiled down to a compilation of greatest hits. This month should be more than just a commemoration of particular events. It's about the shared experience of all Black Americans, high and low, famous and obscure, whose lives have shaped, challenged, and ultimately strengthened America.
It's about taking an unvarnished look at the past so we can create a better future. It's a reminder of where we as a country have been so that we know where we need to go.
Black Americans are the enslaved people who quarried the stone to build the White House; the soldiers who fought for our nation's independence, who fought to hold this union together, who fought for freedom for others around the world. Black Americans are the scientists and inventors who helped unleash American innovation. Black Americans stand on the shoulders not only of giants, but also countless, nameless heroes who marched for equality and justice for all of us.
And as long as we keep at it, as long as we don't get discouraged, as long as we are out there fighting the good fight not just on one day, or one month, but every single day, and every single month, I have no doubt that we're going to live up to that promise …."2
Kitty Lundan, Member of The Palm Beach Post's Editorial Advisory Board:
"Black History Month allows us and other races to learn about the injustice done to African-Americans. Black History Month also enables others to learn about Black culture. Diversity, equity, and inclusion are now the core values many organizations rely on. We focus on making all people feel included, regardless of the conversation.
How can African-Americans have Black history conversations with other races without making them feel uncomfortable? While we can't ignore the terrible things that occurred in history and, in some cases, are still happening, we must not just focus on racism but also on how African-Americans have contributed to America. Teaching other races about Black pioneers, scientist, inventors, educators, entrepreneurs, doctors, and many more titles other than being called negro. When one educates oneself from multiple angles and perspectives, one is more equipped to appreciate and benefit from diverse conversations."3
The ACLU honored Black Americans who made a significant difference, and this section of that article moved me:
"As we honor leaders in Black history this month, the battles they lead for civil rights may seem like relics of a past era. But there is more progress to be made to achieve systemic equality for Black people, particularly in the realm of voting rights, economic justice, housing, and education; as well as ending police brutality and eradicating racism and discrimination in the criminal legal system. Those battles continue under the leadership of Black activists, lawmakers, athletes, actors, and others—many working side by side with the ACLU—who are pursuing true equality to this day.
As one of the foremost leaders of the civil rights movement, Thurgood Marshall was the architect of a brilliant legal strategy to end segregation and fight racial injustice nationwide. He's best known for Brown v. Board of Education, a landmark 1954 Supreme Court case that dismantled the "separate but equal" precedent, initiating integration in schools and other parts of society. Before becoming the first Black Supreme Court Justice in 1967, he worked with the NAACP, founded the Legal Defense Fund, and served on the ACLU board for eight years.
'Where you see wrong or inequality or injustice, speak out, because this is your country. This is your democracy. Make it. Protect it. Pass it on.' — Thurgood Marshall, commencement address at the University of Virginia in 1978"4
I found this article on the Joint Base San Antonio website—which provided an interesting perspective of Black History as it relates to the military. It was written by Col. George R. Farfour, Defense Threat Reduction Agency:
"African Americans came to the aid of their country every time it called. From the foundations of independence to the sands of Iraq, African American Soldiers, Sailors, Airmen, Marines and Guardians have demonstrated they too have a fierce love of country and a stubborn fortitude to succeed in battle. African Americans stand proud in our fighting history and deserve their rightful place in the study of that history. From Crispus Attucks, who was killed by British soldiers during the Boston Massacre in 1770, to the freed and escaped slaves of the Civil War, through the Buffalo soldiers of Wild West to the Tuskegee Airman and right up to today, there has been no shortage of African-American patriots. Here are remembrances of just a few.
The 369th Infantry Regiment, an African-American New York National Guard unit known as the 'Black Rattlers' fought in World War I under the French 4th Army and achieved amazing battlefield successes. Despite the obvious racial prejudices of the time, they earned an impressive number of awards for valor receiving more than 171 decorations. The entire regiment received France's prestigious Croix de Guerre. While they still had to ride on the back of the bus, their heroics were so well-known that they received the unprecedented honor of leading the New York City World War I victory parade. And the Germans, recognizing the amazing tenacity of their enemy, gave them the nickname of 'Harlem Hell-fighters.'
World War II brought forth another wave of distinguished African-American patriots. On the USS West Virginia, Navy Petty Officer 3rd Class Doris Miller, a cook, was up early Dec. 7, 1941. As he served breakfast, explosions rocked the mighty ship and he went to the upper deck. Seeing flames, chaos and death, Miller first aided his wounded commanding officer, taking him to safety. Then he took up a station at one of the many unmanned machine guns and began firing. Although he was trained only as a cook with no instruction in the use of the automatic weapon, Miller reportedly downed two Japanese aircraft before the attacks stopped. He never left his post during the hours of the attack, a post he assumed out of necessity. The commander of the Pacific Fleet, Navy Adm. Chester Nimitz, personally presented Miller with the Navy Cross, an award for valor second only to the Medal of Honor.
Brig. Gen. Charles McGhee, also gives us an enduring lesson in fortitude to the mission. After endless attempts to downplay their abilities, the Tuskegee Airmen were finally placed in combat with a single mission—escort and protect bombers of the German strategic bombing offensive. When asked why he had never become an ace—shooting down 5 or more enemy aircraft, he said, 'becoming an Ace was never more important than protecting the bombers.' In other words, the mission is more important than individual fame. And they have become legendary for their commitment to the mission, and as a result to our country.
Vietnam saw 18-year-old Army Pfc. Milton Olive III receive the Medal of Honor for an act of bravery few people in any war have equaled. Olive's unit was under heavy enemy attacks from the Viet Cong. As the enemy fled the counterattacks of Private Olive's 3rd Platoon, a few VC turned back and threw grenades, one of which landed near Olive, three of his buddies and the platoon leader. Olive grabbed the grenade and covered it with his body, absorbing the blast and saving his fellow soldiers while ensuring the success of the counterassault. At the White House ceremony to present the Medal of Honor posthumously to Olive's parents, President Johnson summed up the reason we should remember the example of Olive and others like him: 'In dying, he taught those of us who remain how we ought to live.'5

****
There is no shortage of great Black Americans to honor. Let's honor them by action and progress. While progress has been made because of these individuals, there is still more work to be done.
The Fedcap Group's mission is to provide economic well-being for individuals, yet too many metrics illustrate ongoing economic racial disparities. As the recent Bureau of Labor Statistics report found, the unemployment rate among Blacks (5.4%) is higher than the national average (3.4%) and whites (3.1%). Another recent report by the Brookings Institute found a growing racial employment gap, especially for Black women. We must be tireless in our effort to close these gaps.
Our country's history is only made richer by remembering the diverse individuals who helped shape it. Black History Month helps bring awareness and understanding of the lived experiences of Black Americans and how we can engage in a real dialogue over racial, social, and economic justice in order to make meaningful change. The words of wisdom above can serve as our True North in pursuit of that goal.
1. Opening of the Washington D.C.'s National Museum of African American History and Culture in 2016.
2. Remarks by the President at Black History Month Reception, East Room (February 18, 2016).
3. How conversations during Black History Month can be a path to understanding (Commentary), The Palm Beach Post (February 3, 2022).
4. Making Black History, Building Black Futures (February 1, 2023).
5. COMMENTARY: Black History Month, A reflection of African-American History (February 18, 2021).