The Evolution of Supply Chain Management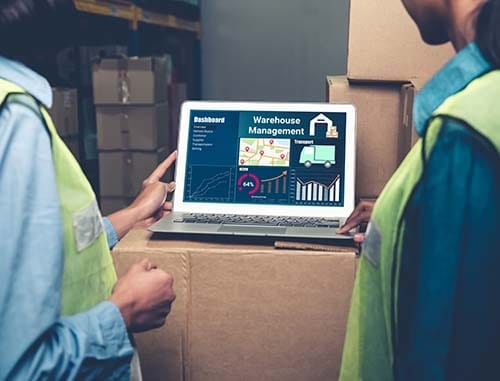 July 26, 2021
One of the many things the pandemic has taught us is how to effectively manage our supply chain to provide essential services to people who need them most. Supply chain management consists of the tight control over the flow of goods and services, between businesses and locations, and includes the movement and storage of raw materials, of work-in-process inventory, and of finished goods as well as end-to-end order fulfillment from point of origin to point of consumption.
The Fedcap Group provides supply chain management in several of our business lines, most visibly in our Total Facilities Management social enterprise where we manage 22MM square feet across an expansive and growing footprint. We have an extensive, top-quality supply chain—small and large companies that have been loyal and valuable partners for decades.
Implementing end-to-end supply chain solutions has historically required skills and capabilities in the following areas:
• Procurement and tracking
• Packaging and warehousing
• Inventory management
Our clients trust us to procure goods competitively and provide supply chain visibility—combining technology, systems, and our day-to-day experience to deliver the promised benefits to end-users. We've worked hard to do this well, and we have learned that managing logistics is simply not sufficient.
As in all things, supply chain management is changing. An article by Supply Chain Operations Practice Leader at KPMG, Brian Higgins, highlights the changes we can expect to see in supply chain management.
This is certainly in keeping with what we learned during the pandemic. The customer experience must be at the center of our service delivery model. Even the efficiencies of our service model are not as critical as the customer experience. As the customers' needs change, so must our services and our service delivery model. We must hire top tier talent savvy enough to predict needs, ensure our supply chain is prepared and, as much as possible, get out ahead of demand. During the pandemic we reshaped our supply chain management, hired top tier talent, leveraged local partnerships, enhanced customer communications, and provided enriched training and staff development opportunities.
As we continue to evolve our supply chain management processes, we'll look for new ways to understand and measure our customer experience.
As always, I look forward to your comments.
La Evolución del Manejo de la Cadena de Suministro
26 julio 2021
Una de las muchas cosas que la pandemia nos ha enseñado; es cómo manejar eficazmente nuestra cadena de suministro, para proporcionar servicios esenciales a las personas que más los necesitan. El manejo de la cadena de suministro consiste en un estricto control sobre el flujo de bienes y servicios; entre empresas y ubicaciones, e incluye el movimiento y almacenamiento de materias primas, el inventario del trabajo diario y de productos terminados, así como el cumplimiento de pedidos de principio a fin, desde el punto de origen hasta elpunto de consumo.
The Fedcap Group proporciona la gestión de la cadena de suministro en varias de nuestras líneas de negocio; más visiblemente en nuestra empresa social Total Facilities Management; donde hacemos el mantenimiento de 22MM de pies cuadrados a través de una huella expansiva y creciente. Tenemos una cadena de suministro extensa y de alta calidad; con pequeñas y grandes empresas que han sido socios leales y valiosos durante décadas.
La implementación de soluciones de cadena de suministro de principio a fin ha requerido históricamente habilidades y capacidades en las siguientes áreas:

• Adquisiciones y seguimiento
• Embalaje y almacenaje
• Mantenimiento del Inventario

Nuestros clientes confían en nosotros para adquirir bienes de manera competitiva y proporcionar visibilidad de la cadena de suministro combinando: tecnología, sistemas y nuestra experiencia diaria para ofrecer los beneficios prometidos a los consumidores finales. Hemos trabajado duro para hacerlo bien, y hemos aprendido que el manejo de la logística es simple pero no es suficiente.
Como en todas las cosas, el manejo de la cadena de suministro está cambiando. Un artículo del Supply Chain Operations KPMG, Brian Higgins; destaca los cambios que podemos esperar ver en el manejo de la cadena de suministro.
Esto sin duda está en consonancia con lo que aprendimos durante la pandemia. La experiencia del consumidor debe estar en el centro de nuestro modelo de prestación de servicios. Incluso la eficacia de nuestro modelo de servicio no es tan crítica como la experiencia del cliente. A medida que cambian las necesidades de los consumidores; también lo deben hacer nuestros servicios y nuestro modelo de prestación de servicios. Debemos contratar a talentos de primer nivel, lo suficientemente expertos como para predecir necesidades; asegurarnos de que nuestra cadena de suministro esté preparada y, en la medida de lo posible, adelantarnos a la demanda. Durante la pandemia remodelamos nuestro manejo de la cadena de suministro, contratamos talento de primer nivel, aprovechamos las asociaciones locales, mejoramos las comunicaciones con los clientes y proporcionamos oportunidades enriquecidas de capacitación y desarrollo del personal.

A medida que continuamos evolucionando nuestros procesos de gestión de la cadena de suministro, buscaremos nuevas formas de comprender y medir la experiencia de nuestros clientes.

Como siempre, espero con interés sus comentarios.