Technology As An Ally in Fighting Poverty!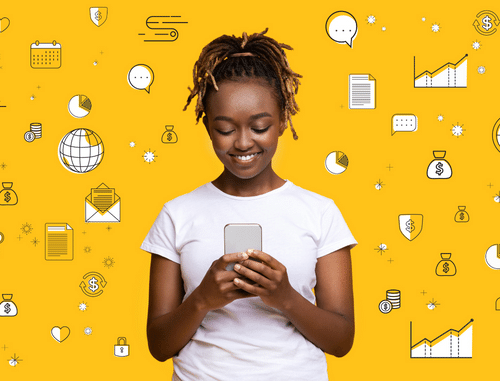 January 9, 2023
Every new technological advancement has the opportunity to change the lives of people with barriers to economic well-being.
Just consider a few of the ways that technology serves as a major ally to the war on poverty—especially for women and children.
E-learning platforms offer entrepreneurs in remote and difficult to access locations training and business advisory services. This is increasingly effective for women-owned small businesses.
Mobile banking offers the poor access to banking without transaction costs and without the need for a traditional, physical bank. A Brookings Institute policy brief reported that access to banking helps the poor protect their assets and invest wisely. It allows them to save money without fear of theft. Brookings reported that, "One study from the Philippines found that access to formal savings increased women's economic empowerment by raising their influence over household consumption choices, children's education and use of family planning."
Mobile technology has increased incomes for small-scale farmers and entrepreneurs, particularly by connecting them to better markets.
Mobile health care via cell phones offers access to medical information otherwise inaccessible to impoverished people. A recent Ghanaian project, for instance, targets pregnant women who lack access to information on how to promote healthy fetal development, reports the Research Council of Norway. Mothers receive weekly, automated messages designed to help counterbalance superstition and pregnancy-related myths. "All they need to receive these messages is an inexpensive mobile phone," says Jacqueline Møller Larsen of the Grameen Foundation in Ghana. "The health information they receive in this way can make a real difference in the health of both mother and baby."
Increase access to education. Many children, especially disadvantaged girls, in rural areas of the world, have limited access to education. And many of the schools that rural children can attend struggle with poor-quality teachers and limited resources. But new technology like solar-powered computers and projectors allow students to participate in real-time, interactive lessons with quality teachers.
At The Fedcap Group, we are striving to join these cutting-edge strategies with our own Single Stop technology. Single Stop began with a simple question "How do we connect the 46 million Americans living in poverty with the billions of dollars of life-changing resources that go unclaimed each year?" Connecting families to these resources was a problem of logistics. So Single Stop set out to use technology to create a new pathway for economic mobility in the United States. We designed an accessible, user-friendly online platform that connects people to the financial resources critical to breaking the cycle of poverty.
Since 2007, we have helped over 2.1 million people get connected with benefits and resources. In FY2022 alone, Single Stop served over 87,000 individuals, facilitating access to benefits and needed supports valued at $374M. Households who completed our benefit screening were found eligible for an average value of $12,000 in needed supports per household.
In the past decade we have expanded our services to serve college students struggling to remain in college due to financial and other stressors such as need for childcare. In FY 2022, we served over 22,000 college students across 50 college campuses.
Independent evaluators underscore Single Stop's impact in the educational sphere.
The Institute of Education Sciences has recognized Single Stop through its What Works Clearinghouse as a tool to improve academic achievement and progression in college.
The Rand Report study found that Single Stop clients are more successful in college than their peers who do not utilize the organization's services. Single Stop use was associated with increased college persistence, meaning that students are more likely to return to college for another semester, or the following year, if they take advantage of Single Stop services.
Metis Associates evaluated the Single Stop program at the Community College of Philadelphia. The study followed students from Fall 2014 through Fall 2017 and found that students who utilized Single Stop services are more successful in college than their peers who do not utilize the organization's services.
Technology is a profound ally in the fight against poverty. And The Fedcap Group is so proud to be part of the solution!
As always, I welcome your thoughts.
¡La Tecnología Como Aliada en la Lucha Contra la Pobreza!
9 enero 2023
Cada nuevo avance tecnológico tiene la oportunidad de cambiar la vida de las personas con incapacidades para el bienestar económico.
Solo considera algunas de las formas en que la tecnología sirve como un aliado importante en la guerra contra la pobreza, especialmente para las mujeres y los niños.
Las plataformas de aprendizaje electrónico ofrecen a los empresarios en ubicaciones remotas y de difícil acceso servicios de capacitación y asesoramiento empresarial. Esto es cada vez más efectivo para las pequeñas empresas propiedad de mujeres.
La banca móvil ofrece a los humildes acceso a la banca sin costos de transacción y sin la necesidad de un banco físico tradicional. Un informe de Brookings Institute, informó que el acceso a la banca móvil ayuda a los pobres a proteger sus activos e invertir sabiamente. Les permite ahorrar dinero sin temor a ser atracados. Brookings informó que, "Un estudio en las Filipinas encontró que el acceso al ahorro oficial aumentó el empoderamiento económico de las mujeres al aumentar su poder sobre las opciones de consumo en el hogar, la educación de los niños y el uso de la planificación familiar."
La tecnología móvil ha aumentado los ingresos tanto de los pequeños agricultores como de los empresarios, en particular al conectarlos con mejores mercados.
La atención médica móvil a través de teléfonos celulares ofrece acceso a información médica que de otro modo sería inaccesible para las personas necesitadas. Un proyecto reciente en Ghana, por ejemplo, se efoca en las mujeres embarazadas que carecen de acceso a información sobre cómo fomentar un desarrollo fetal, informa el Research Council of Norway. Las madres reciben mensajes automatizados semanales que son diseñados para ayudar a contrarrestar la superstición y los mitos relacionados con el embarazo. "Todo lo que necesitan para recibir estos mensajes, es un teléfono móvil económico," dice Jacqueline Møller Larsen de la Grameen Foundation en Ghana. "La información sobre la salud que reciben de esta manera puede hacer una diferencia real en la salud tanto de la madre como la del bebé".
Aumentar el acceso a la educación.

Muchos niños, especialmente las niñas necesitadas, en las zonas rurales del mundo, tienen un acceso limitado a la educación. Y muchas de las escuelas a las que pueden asistir los niños de zonas rurales batallan con maestros deficientes y recursos limitados. Pero las nuevas tecnologías, como las computadoras y los proyectores que funcionan con energía solar, permiten a los estudiantes participar en lecciones interactivas en tiempo real con maestros de calidad.
En el Fedcap Group, nos esforzamos por unir estas estrategias de vanguardia con nuestra propia tecnología de Single Stop. Single Stop comenzó con una simple pregunta: "¿Cómo conectamos a los 46 millones de estadounidenses que viven en la pobreza con los miles de millones de dólares de recursos transformadores y que no se reclaman cada año? "Conectar a las familias con estos recursos era un problema de logística. Así que Single Stop se propuso utilizar la tecnología para crear un nuevo camino para la movilidad económica en los Estados Unidos. Diseñamos una plataforma en línea, intuitiva y fácil de usar que conecta a las personas con los recursos financieros fundamentales para romper el ciclo de la pobreza.
Desde el 2007, hemos ayudado a más de 2,1 millones de personas a conectarse con beneficios y recursos. Solo en el año fiscal 2022, Single Stop atendió a más de 87,000 personas, facilitando el acceso a beneficios y apoyos vitales valorados en $ 374M. Las familias que completaron nuestra evaluación de beneficios, fueron elegibles por un valor promedio de $12,000 en apoyos necesarios por hogar.
En la última década, hemos ampliado nuestros servicios para servir a los estudiantes universitarios que luchan por permanecer en la universidad, debido a factores financieros estresantes y de otro tipo, como la necesidad del cuidado infantil. En el año fiscal 2022, servimos a más de 22,000 estudiantes universitarios en 50 recintos universitarios.
Evaluadores independientes subrayan el impacto de Single Stop en el ámbito educativo.
El Institute of Education Sciences ha reconocido a Single Stop a través de su "What Works Clearinghouse"; como una herramienta para mejorar el rendimiento académico y la evolución en la universidad.
El estudio del "Rand Report", encontró que los clientes de Single Stop tienen más éxito en la universidad que sus compañeros que no utilizan los servicios de la organización. El uso de Single Stop se vinculó con una mayor persistencia en la universidad; lo que significa que es más probable que los estudiantes regresen a la universidad por otro semestre, o al año siguiente, si aprovechan los servicios de Single Stop.
"Metis Associates" evaluó el programa de Single Stop en el Community College of Philadelphia. El estudio rastreo a los estudiantes desde el otoño de 2014 hasta el otoño de 2017 y encontró que los estudiantes que utilizaron los servicios de Single Stop tenían más éxito en la universidad que sus compañeros que no utilizaban los servicios de la organización.
La tecnología es una profunda aliada en la lucha contra la pobreza. ¡Y el Fedcap Group está muy orgulloso de ser parte de la solución!
Como siempre, agradezco tus comentarios.