The Concept of Being Thankful is Simply a Good Idea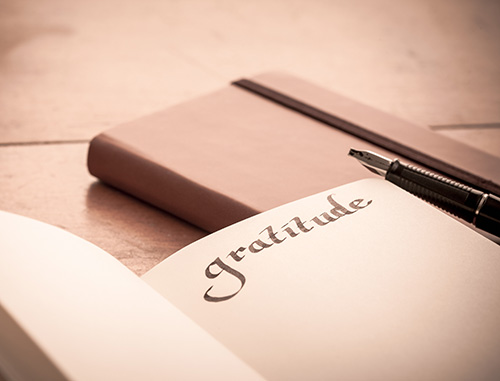 November 23, 2022
Tomorrow in the U.S. we celebrate Thanksgiving. While I enjoy the holiday and certainly the remarkable food, I am often puzzled by the idea that we set aside one day to be thankful.
There are so many self-help books and a growing body of research that suggests that the act of practicing gratitude has tremendous long-term benefits.
I found an informative article on Intelligent Change that describes with some degree of detail the concrete benefits of gratitude.
Gratitude Makes You Optimistic and Giving
In one of the first controlled experiments on gratitude, psychologist Martin Seligman asked 411 people to write and personally deliver a letter of gratitude to a person from their life who deserves it. This activity immensely increased their happiness, self-satisfaction, and future predictions scores, compared to a control group. These effects lasted for a whole month. Simply put, gratitude made them more optimistic for longer.
Gratitude Reduces Materialism
Although material means are the bare minimum necessary for survival, overestimating their value can be personally harmful. Materialism is consistently correlated to lower life satisfaction. Whereas the 2014 research cited above demonstrated that people who regularly practice gratitude are less materialistic and tend to be more satisfied with their lives and the material possessions they already have.
Emotional Benefits of Gratitude
Leading researchers on gratitude, Emmons and McCollough, discovered that keeping a gratitude journal and spending only five minutes on it per day can make you at least 10% happier in the long run. This means that all it takes to shift our mindset towards positivity is a willingness to improve our life for the better, practice, commitment, and only a couple of minutes per day.
Social Benefits of Practicing Gratitude
We all have experience ed that people who are satisfied and happy are simply more fun to be around. A 2011 research report revealed that our friendships tend to grow stronger when we express gratitude to our friends. The act of expressing gratitude makes problems more easily resolvable and mutual perception between friends becomes more positive.
And this same article discussed the benefits of gratitude in one's career.
HR research tells us that workers prefer a workplace culture that is cooperative, where colleagues recognize each other's efforts and aren't shy to tell each other "thank you."
We're not the only ones claiming that gratitude makes you a better you! Scientific research shows that gratefulness enhances your organizational and motivating abilities. Grateful mentors turn out to be far better mentors than those who play by strict rules.
Moreover, this positive practice tends to improve our patience and decision-making processes by shifting our focus from short-term gratifications to long-term goals. This is particularly important when it comes to work and office culture, as following short-term goals leads to confusion and chaos. On the other hand, focusing on long-term goals gives us more meaning, both in terms of workplace relationships and professional aspirations.
Gratitude Improves Work Satisfaction
Luckily, positive psychology has made an impact on career development and counseling. That's why today we have a rich body of empirical research about traits and habits that are related to overall work satisfaction.
Recent research from 2015 revealed that gratitude is one of the most important factors that impact people's sense of meaning at work. Grateful people seem to be the ones who end up "living their life's purpose," plus, they're happier at their workplace.
But that's not all. Implementing gratitude practice at work significantly improves employees' mental health and reduces their perceived stress and depressive symptoms at work. Gratitude turns out to be a protective factor, which improves people's resilience in all kinds of stressful situations.
Health Benefits of Gratitude
And lastly, but perhaps most importantly, let's go over the health benefits of gratitude.
It can seem unbelievable, but gratitude truly does improve our health—both mental and physical. The mechanism is quite simple: as expressing gratitude reduces stress and promotes positive emotions, it changes our brain and body chemistry. This protects our vital organ systems, especially those that are stress-sensitive, such as the cardiovascular system.
In the next couple of paragraphs, we'll describe the most important benefits of gratitude to our mental and physical health.
Gratitude Improves Mental Health
The cornerstone of mental health is high-quality sleep. People who don't sleep well can hardly expect their other mental functions to perform at their finest. Do you have a hard time falling asleep? Or perhaps you're the endless alarm-snoozer type?
If the answer is yes to either one (or both) of these questions, consider that according to Emmons and McCollough's research, gratitude journaling helps people sleep better. If you'd like to improve your sleeping cycles, try filling out a gratitude journal every night before going to bed. The Five Minute Journal is designed for you to take a few short minutes a day, in the morning and night, to answer five simple prompts which help you be more positive and grateful.
You're already familiar with the fact that gratitude lowers anxiety, depression, and stress symptoms, which are also important mental health factors. In fact, everything we spoke about so far—emotional benefits, relationships, career satisfaction—these are all major mental health components, and they can all be influenced positively by practicing gratitude.
A 2012 study conducted by researchers from the University of Kentucky discovered that gratitude is an antidote to aggression. Participants who practiced gratitude on a regular basis were more likely to express prosocial behaviors and were more sensitive and empathetic. Gratitude also turned out to be crucial in lowering the post-traumatic stress disorder symptoms among Vietnam War veterans.
Research shows that gratitude practice enables individuals to develop an arsenal of personal strengths that can help them stay sober and productive in the long run. That's why Narcotics Anonymous has adopted gratitude practice as one of the key components to recovery. When it comes to depression, a case study of a woman who adopted Buddhist teachings and practices to fight depression showed that gratitude practice was the most beneficial on her way to recovery.
Gratitude Improves Physical Health
When it comes to the benefits of gratitude on physical health, there are several layers of effects. A study from 2013 determined that grateful people have better physical health overall, measured by a number of symptoms they experience. As we mentioned above, a possible explanation for this is that gratitude lowers perceived stress levels, consequently making us stronger and healthier.
To broaden the topic further: Emmons and McCollough discovered that grateful people are also more fit.
Does this mean you should add gratitude to your diet plan?
Well, maybe. Of course, practicing gratitude won't make you skinnier on its own, but according to their research, people who do it are more likely to exercise regularly. So, yes, when planning your diet and training plan, make sure to add five minutes for practicing gratitude, as it can be a significant boost.
The same researchers also discovered that gratitude lowers the symptoms of physical pain, while other research showed that it can help coronary patients recover faster. How is that possible? Researchers say that people who practice gratitude are more willing to take care of themselves and cut out bad habits such as smoking or eating unhealthy food. They also experience less stress which is crucial for combating coronary diseases.
Gratitude takes people outside of themselves and to a place that is part of a larger, more intricate network of sustaining relationships.
There is a quote by Kristin Armstrong I find especially noteworthy. "I write about the power of trying because I want to be okay with failing. I write about generosity because I battle selfishness. I write about joy because I've known sorrow. I write about faith because I almost lost mine, and I know what it is to be broken and in need of redemption. I write about gratitude because I am thankful—for all of it."
And this impacts the overall attitude of our workforce. Researchers from the London School of Economics, in analysis of 51 companies, found that while financial incentives may or may not work when it comes to motivating employees, there is overwhelming evidence that gratitude and appreciation are highly effective motivators for staff. They found that 80% of employees are willing to work harder for an appreciative boss.
"We tend to think of organizations as transactional places where you're supposed to be 'professional,'" says Ryan Fehr, an assistant professor of management at the University of Washington, Seattle, who recently published a paper summarizing the landscape of gratitude in business. "We may think that it's unprofessional to bring things like gratitude or compassion into the workplace, yet evidence suggests that gratitude and appreciation contribute to the kind of workplace environments people want to be part of."
Happy day of gratitude and giving of thanks!
La Idea de Ser Agradecido/a es Simplemente una Buena Idea
23 noviembre 2022
Mañana en los Estados Unidos celebramos el Día de Acción de Gracias (Thanksgiving). Si bien disfruto el día de fiesta y ciertamente de la extraordinaria comida; a menudo me desconcierta la idea de que dejemos a un lado un día para estar agradecidos.
Hay tantos libros de autoayuda y una creciente fuente de investigación que sugiere que el acto de practicar la gratitud tiene enormes beneficios a largo plazo.
Encontré un artículo informativo en "Intelligent Change", que describe con cierto grado de detalle los beneficios concretos de la gratitud.
La Gratitud Te Convierte en Optimista y Generoso/a
En uno de los primeros experimentos medidos sobre la gratitud, el psicólogo Martin Seligman pidió a 411 personas que le escribieran y entregaran personalmente una carta de gratitud a una persona en su vida que se lo mereciera. Esta actividad aumentó enormemente tanto sus puntajes de felicidad, como la autosatisfacción y sus predicciones futuras, en comparación con un grupo de control. Estos efectos duraron un mes entero. En pocas palabras, la gratitud los convirtió en más optimistas por más tiempo.
La gratitud Disminuye el Materialismo
Aunque las cosas materiales son el mínimo necesario para sobrevivir, sobreestimar su valor puede ser personalmente perjudicial. El materialismo tiene relación consistentemente con una menor satisfacción con la vida. Mientras que la investigación de 2014 citada anteriormente demostró que las personas que practicaron regularmente la gratitud eran menos materialistas y tendían a estar más satisfechas con sus vidas y las posesiones materiales que ya tenían.
Beneficios Emocionales de la Gratitud
Los principales investigadores sobre gratitud, Emmons y McCollough, descubrieron que mantener un diario personal de gratitud y pasar solo cinco minutos en él por día puede hacerte al menos un 10% más feliz a largo plazo. Esto significa que todo lo que se necesita para cambiar nuestro modo de pensar hacia la positividad, es la voluntad de mejorar nuestra vida para bien, así como la práctica, el compromiso y solo un par de minutos por día.
Beneficios Sociales de Practicar la Gratitud
Todos hemos experimentado que las personas que están satisfechas y felices son simplemente más divertidas. Un informe de investigación de 2011 reveló que nuestras amistades tienden a fortalecerse cuando expresamos gratitud a nuestros amigos. El acto de expresar gratitud hace que los problemas sean más fáciles de resolver y la percepción mutua entre amigos se vuelve más positiva.
Y en este mismo artículo se habló sobre los beneficios de la gratitud en la carrera profesional de uno mismo/a.
La investigación de Recursos Humanos nos dice que los trabajadores prefieren una cultura de trabajo que sea colaborativa, donde los colegas reconozcan los esfuerzos de los demás y no sean tímidos para decirse "gracias".
¡No somos los únicos que afirmamos que la gratitud te hace mejor! La investigación científica muestra que el agradecimiento mejora tus habilidades organizativas e inspiradoras. Los consejeros agradecidos resultan ser mucho mejores orientadores que aquellos que siguen las reglas estrictas.
Además, esta práctica positiva tiende a mejorar nuestra paciencia y los procesos de toma de decisiones al cambiar nuestro enfoque de las gratificaciones a corto plazo hasta los objetivos a largo plazo. Esto es particularmente importante cuando se trata de la cultura del trabajo y la oficina, ya que seguir los objetivos a corto plazo conduce a la confusión y al caos. Por otro lado, centrarse en objetivos a largo plazo nos da más sentido, tanto en términos de relaciones laborales como de aspiraciones profesionales.
La Gratitud Mejora la Satisfacción Laboral
Afortunadamente, la psicología positiva ha tenido un impacto tanto en el desarrollo profesional como en el asesoramiento. Es por eso que hoy tenemos una rica fuente de investigación comprobada sobre rasgos y hábitos que están relacionados con la satisfacción laboral general.

Investigaciones recientes de 2015 revelaron que la gratitud es uno de los factores más importantes que afectan la razón del significado de las personas en el trabajo. Las personas agradecidas parecen ser las que terminan "viviendo el propósito de su vida", además, son más felices en su lugar de trabajo.
Pero eso no es todo. La implementación de la práctica de gratitud en el trabajo mejora significativamente la salud mental de los empleados y reduce la apariencia de su estrés y los síntomas depresivos en el trabajo. La gratitud resulta ser un factor de seguridad, que mejora la resistencia de las personas en todo tipo de situaciones estresantes.
Beneficios de Salud de la Gratitud
Y por último, pero quizás lo más importante, repasemos los beneficios de salud de la gratitud.
Puede parecer increíble, pero la gratitud realmente mejora nuestra salud, tanto mental como física. El mecanismo es bastante simple: expresando la gratitud reduce el estrés y promueve emociones positivas, cambia tanto la química de nuestro cerebro como la de nuestro cuerpo. Esto protege nuestro sistema de órganos vitales, especialmente aquellos que son sensibles al estrés, como el sistema cardiovascular.
En el siguiente par de párrafos, describiremos los beneficios más importantes de la gratitud para nuestra salud mental y física.
La Gratitud Mejora la Salud Mental
La piedra angular de la salud mental es el sueño de alta calidad. Las personas que no duermen bien difícilmente pueden esperar que sus otras funciones mentales funcionen al máximo. ¿Tienes dificultades para conciliar el sueño? ¿O tal vez eres del tipo de persona que duerme, aunque tu alarma suene sin fin?
Si la respuesta es sí a una (o ambas) de estas preguntas, considera que de acuerdo con la investigación de Emmons y McCollough, el diario personal de gratitud ayuda a las personas a dormir mejor. Si deseas mejorar tus ciclos de sueño, intenta completar un diario personal de gratitud todas las noches antes de acostarte. El Diario de Cinco Minutos (The Five Minute Journal), está diseñado para que tú te tomes unos pocos minutos al día, por la mañana y por la noche, para responder cinco simples questiones que te ayuden a ser más positivo/a y agradecido/a.
Ya estás familiarizado con el hecho de que la gratitud reduce la ansiedad, la depresión y los síntomas de estrés, que también son factores importantes de salud mental. De hecho, todo de lo que hablamos hasta ahora (beneficios emocionales, relaciones personales, satisfacción profesional) todos estos son los principales componentes de la salud mental, y todos pueden ser influenciados positivamente por la práctica de la gratitud.
Un estudio de 2012 realizado por investigadores de la Universidad de Kentucky descubrió que la gratitud es un antídoto contra la agresión. Los participantes que practicaban la gratitud de forma regular eran más propensos a expresar comportamientos prosociales y eran más sensibles y comprensivos. La gratitud también resultó ser crucial para reducir los síntomas del trastorno de estrés postraumático entre los veteranos de la Guerra de Vietnam.
La investigación muestra que la práctica de la gratitud permite a las personas a desarrollar un arsenal de fortalezas personales que pueden ayudarlos a mantenerse sobrios y productivos a largo plazo. Es por eso que Narcóticos Anónimos (Narcotics Anonymous), ha adoptado la práctica de la gratitud como uno de los componentes clave para la recuperación. Cuando se trata de la depresión, un estudio de un caso donde una mujer que adoptó enseñanzas y prácticas budistas para combatir la depresión mostró que la práctica de la gratitud era la más beneficiosa en su camino hacia la recuperación.
La Gratitud Mejora la Salud Física
Cuando se trata de los beneficios de la gratitud en la salud física, hay varios niveles de efecto. Un estudio realizadoen 2013 determinó que las personas agradecidas tienen una mejor salud física en general; medida por una serie de síntomas que experimentan. Como mencionamos anteriormente, una posible explicación para esto es que la gratitud reduce los niveles que se perciben del estrés, lo que nos hace más fuertes y saludables.
Para ampliar aún más el tema: Emmons y McCollough descubrieron que las personas agradecidas también están más en forma.
¿Significa esto que deberías añadir gratitud a tu plan de alimentación?
Bueno, tal vez. Por supuesto, practicar la gratitud no te hará más delgada por sí solo, pero según su investigación, las personas que lo hacen tienen más probabilidades de hacer ejercicio regularmente. Entonces, sí, cuando planifiques tu alimentación y plan de entrenamiento, asegúrate de agregar cinco minutos para practicar la gratitud, ya que puede ser un impulso significativo.
Los mismos investigadores también descubrieron que la gratitud reduce los síntomas del dolor físico, mientras que otras investigaciones mostraron que puede ayudar a los pacientes con ataques al corazón a recuperarse más rápido. ¿Cómo es posible? Los investigadores dicen que las personas que practican la gratitud están más dispuestas a cuidarse y eliminar los malos hábitos como fumar o comer alimentos poco saludables. También experimentan menos estrés, que es crucial para combatir las enfermedades coronarias.
La gratitud sacas a las personas fuera de sí mismas y las lleva a un lugar que es parte de una red más grande e intrincada de relaciones sostenibles.
Hay una frase de Kristin Armstrong que me parece especialmente digna de mención. "Escribo sobre el poder de intentarlo, porque quiero estar bien con el fracaso. Escribo sobre la generosidad, porque lucho contra el egoísmo. Escribo sobre la alegría, porque he conocido el dolor. Escribo sobre la fe, porque casi pierdo la mía, y sé lo que es ser abatida y necesitar salvación. Escribo sobre la gratitud porque estoy agradecida, por todo ello".
Y esto impacta la actitud general de nuestra fuerza laboral. Investigadores de "The London School of Economics", en el análisis de 51 empresas, encontraron que, si bien los incentivos financieros podían o no funcionar cuando se trataba de motivar a los empleados, existía evidencia abrumadora de que la gratitud y el aprecio eran impulsores altamente efectivos para el personal. Descubrieron que el 80% de los empleados estaban dispuestos a trabajar más duro para un jefe agradecido.
"Solemos pensar en las organizaciones como sitios transaccionales donde se supone que deberíamos ser "profesionales", dice Ryan Fehr, profesor asistente de administración en la Universidad de Washington, de Seattle, quien recientemente publicó un artículo que resume el panorama de la gratitud en los negocios. "Podríamos pensar que no es profesional llevar cosas como la gratitud o la compasión al lugar de trabajo, sin embargo, la evidencia sugiere que la gratitud y el aprecio contribuyen al tipo de entorno laboral del cual las personas quieren formar parte. "
¡Feliz día de la Gratitud y del Agradecimiento!